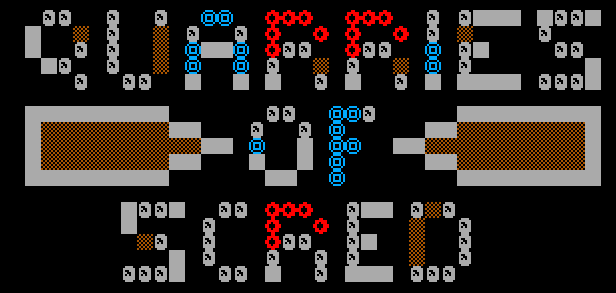 Quarries Of Scred
A downloadable game for Windows
Welcome to the Quarries of Scred.
You will surely perish.
Quarries of Scred harks back to a simple arcade style - dig down, collect different minerals and dirt ore and return to cash in! Strategic use of lasers, land mines and self-destruction will ensure access to hard to reach areas, though care must be taken at all times within... the Quarries of Scred!
Guide Bob the Digger through the Quarries as he attempts to excavate a fortune in hopes of activating a teleporter - enabling him to escape his creditors.
Features:
Daily Quarry - Each day, a new standardised quarry will open up. Compete against fellow gamers and tweet your score to the hashtag #DailyScred
Alternate graphics modes - EGA, CGA, Monogreen & a very awesome sprite set by the talented Jay the Robot, 3x Awesome sets from CNIAngel and a final awesome set by TakeNapEveryDay, and 1 by EricHermit
Game Modes - Normal, Darkness, 60 Second Challenge & 120 Second Challenge!
Nefarious threats - Boulders, Ranklers, Bats, and [Redacted]!
Ability to open twitter website & form a #DailyQuarry tweet automagically
Version checking! (This will simply verify you have the latest version - it is NOT DRM, and will not prevent nor track play in any form)
Purchasers will be allowed to claim a key on Steam as well.
Please note: This game requires 32 bit Java to run.
NOTE: MACOS BUILD IS EXPERIMENTAL (AND FOR A PREVIOUS BUILD)
Requires 32 bit Java 1.6 to run (update your Java anyway)
Purchase
In order to download this game you must purchase it at or above the minimum price of $5.99 USD. Your purchase comes with a Steam key. You will get access to the following files:
Quarries of Scred - Manual - 1.1.pdf
526 kB
Quarry - 2015-04-23 01 - Update 006 WIN.zip
54 MB
Quarry - 2015-04-23 01 - Update 006 MAC.zip
15 MB
Quarry - 2014-12-20 01 - Update 005 WIN.zip
9 MB
Quarry - 2014-12-20 01 - Update 005 MAC.zip
9 MB
Quarry - 2014-07-06 02 - Update 004b.zip
7 MB
Quarry - 2014-09-21 01 - Update 004c MAC.zip
6 MB
Quarry - 2014-08-17 01 - Update 004b MacOS.zip
6 MB
Quarry - 2014-04-27 01 - Update 003a [Obsolete].zip
5 MB
Quarry - 2014-02-22 01 - Update 003 [Obsolete].zip
5 MB
Quarry - 2014-02-22 01 - Update 003a MacOS [Obsolete].zip
5 MB
Quarry - 2014-02-22 01 - Update 003 MacOS [Obsolete].zip
5 MB
2014-02-02 01 - Quarry [Obsolete].zip
5 MB