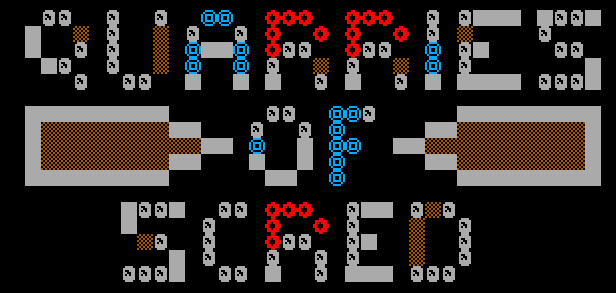 Quarries Of Scred
Welcome to the Quarries of Scred.
You will surely perish.
Quarries of Scred harks back to a simple arcade style - dig down, collect different minerals and dirt ore and return to cash in! Strategic use of lasers, land mines and self-destruction will ensure access to hard to reach areas, though care must be taken at all times within... the Quarries of Scred!
Guide Bob the Digger through the Quarries as he attempts to excavate a fortune in hopes of activating a teleporter - enabling him to escape his creditors.
Features:
Daily Quarry - Each day, a new standardised quarry will open up. Compete against fellow gamers and tweet your score to the hashtag #DailyScred
Alternate graphics modes - EGA, CGA, Monogreen & a very awesome sprite set by the talented Jay the Robot, 2x Awesome sets from CNIAngel and a final awesome set by TakeNapEveryDay, and 1 by EricHermit
Purchasers will be allowed to claim a key on Indie Game Stand as well.
Please note: This game requires 32 bit Java to run.
Changenotes
2014-07-06 - Update 004
New game modes have been added:

Darkness mode
60 Second Challenge Mode
120 Second Challenge Mode

The following items are now available for tech slots:

Flare launcher/Flares
Stabiliser Launcher/Stabiliser

Ability to open twitter website & form a #DailyQuarry tweet automagically has been added (Press F12 on Daily Score Screen)
The following new threats have been added

To ensure presence of new tiles, spritesheets now conform to XYZbasics004.png rather than XYZbasics003.png.
Overlay.png added to sprite files - this will be required for all sprite sets in future, and is used to cover black borders when the game is in widescreen mode.
QoS will now check a file on noblekale.com for detection of most recent version. If the version listed in source is lower than that found on the URL, a minor 'Update available' is displayed on the main menu screen. If file is not found (no internet connection or noblekale.com goes down), this will not appear. THIS IS NOT DRM, and will not affect your ability to play.
QoS now pulls keys from Keys.dat on startup - meaning that people can remap them if desired.
Spectacular new intro tune from @cfxmusic
Wonderful new Spriteset, Pelagic by @erichermit
[[Other Change notes available in readme.txt]]
NOTE: MACOS BUILD IS EXPERIMENTAL.
Requires 32 bit Java 1.6 to run (update your Java anyway)
Purchase
In order to download this game you must purchase it at or above the minimum price of $4.00 AUD. You will get access to the following files:
Quarry - 2014-07-06 02 - Update 004b.zip
(

7527184

)
Quarry - 2014-04-27 01 - Update 003a [Obsolete].zip
(

5795858

)
Quarry - 2014-02-22 01 - Update 003a MacOS [Obsolete].zip
(

5632952

)
Quarry - 2014-02-22 01 - Update 003 [Obsolete].zip
(

5795660

)
Quarry - 2014-02-22 01 - Update 003 MacOS [Obsolete].zip
(

5642525

)
2014-02-02 01 - Quarry [Obsolete].zip
(

5806527

)