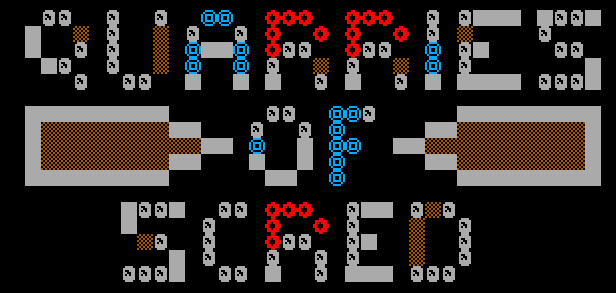 Quarries Of Scred
Welcome to the Quarries of Scred.
You will surely perish.
Quarries of Scred harks back to a simple arcade style - dig down, collect different minerals and dirt ore and return to cash in! Strategic use of lasers, land mines and self-destruction will ensure access to hard to reach areas, though care must be taken at all times within... the Quarries of Scred!
Guide Bob the Digger through the Quarries as he attempts to excavate a fortune in hopes of activating a teleporter - enabling him to escape his creditors.
Features:
Daily Quarry - Each day, a new standardised quarry will open up. Compete against fellow gamers and tweet your score to the hashtag #DailyScred
Alternate graphics modes - EGA, CGA, Monogreen & a very awesome sprite set by the talented Jay the Robot, 2x Awesome sets from CNIAngel and a final awesome set by TakeNapEveryDay
Please note: This game requires 32 bit Java to run.
Changenotes
2014-02-22 - Update 003 [AKA: Dream killer update]
Gravity Inverter
Bats added
Quarries now extend... lower
VSync option added, and enabled by default.
Timer now pauses when game is in menu, etc (but not during lost focus)
Scredrock tile introduced & implemented for bedrock veins
Drones can now be sold. Any drones remaining when the teleporter is used will be nulled out (ie: worthless)
To ensure presence of Scredrock tile, spritesheets now conform to XYZbasics003.png rather than XYZbasics.png.
Some new pre-designed formations added to generation
Replay now added on last death
Sweeney tileset added (thanks to the awesome as hell @takenapeveryday)
ZX & ZXBright tilesets added
Fixed Daily Seed repeat bug.
Several streamers & other folk added to credits.
2014-02-02
Completing the seed now requires you to purchase a Teleporter Pass, then activate the Teleporter. This will finish your game (That's it! You're outta there!), but you will then get your x2 bonus, and your Songlasia bonus).
Songlasia no longer counts to credits /during the game/ - it's added on as a bonus if you complete a seed
Tech slot addition: Remote refining. Press L, consumes 1 powercell.
Additional spritesheets:


CNIAngelAwesome1 (thanks to the awesome as hell @CNIAngel)
CNIAngelAwesome2 (thanks to the awesome as hell @CNIAngel)
Monoamber

Ranklers now move properly
Bonus/Score screen makes more sense
Augmented the info screen for storyline + some stuff.
Songlasia fields are now smaller
'Odd' terrain added - sometimes you may get stalagmites, stalactites, rock encropments and new styles of Rankler Nests.
NOTE: MACOS BUILD IS EXPERIMENTAL.
Requires 32 bit Java 1.7 to run
(Alternate file, [Alternate Mac Build] Quarry - 2014-02-22 01 - Update 003a MacOS.zip should run on Java 1.6)
Purchase
In order to download this game you must purchase it at or above the minimum price of $3.00 AUD. You will get access to the following files:
Quarry - 2014-02-22 01 - Update 003.zip
(

5795660

)
Quarry - 2014-02-22 01 - Update 003a MacOS.zip
(

5632952

)
Quarry - 2014-02-22 01 - Update 003 MacOS.zip
(

5642525

)
2014-02-02 01 - Quarry [Obsolete].zip
(

5806527

)